Options
Welcome families to the area of our website where you can view a series of videos made by each Curriculum Leader. We hope these videos will help students and families understand in more detail what course is being studied and what it looks like to participate in the qualification.
Options Online: www.sims-options.co.uk
Parent's Evening Presentation
Subject videos
Art
Computer Science
Drama
English
Food Preparation & Nutrition
Geography
German
History
Maths
Music
Physical Education
Religious Education
Science
Spanish
Dance
We will recruit our Head of Dance in the spring term for a September start. There is no video currently therefore. Here is a summary of the Dance GCSE.
Dance allows students to develop their creative talents and offers the opportunity for students to extend their knowledge of choreography, dance forms, performance and appreciation. Students learn to work in a particularly close social environment and develop a great deal of self-confidence in performing and choreographing for themselves and others.
Course Details
This GCSE course aims to develop knowledge of dance as an art form through three strands of the course, choreography, performance and appreciation. The course is biased towards contemporary dance, which all students have experienced at Key Stage 3. The students will study six set works. Students are assessed on both practical and theoretical elements. Weekly attendance at Dance Club is a basic requirement, as it constitutes the majority of the Homework allocated to the course. Involvement in the School Production and dance shows are a strong recommendation. It is essential that students who opt to study this course are confident to perform in a public forum. They will be expected to perform in the GCSE Dance Showcase.
Coursework
Performance in a duet or trio (performance piece) and a solo performance (2 x set phrases) (30%) Group composition (30%)
The Examination
The remaining 40% of the final mark is made up of an externally set written paper.
Further Education & Careers
It will give access to BTEC and A level courses, and is particularly relevant to Performing Arts courses. If you are thinking of a career in the media/theatre, then this course is not only great fun but enhancing too.
Media / Film Studies
We will appoint a new member of staff to deliver this GCSE. There is a Media and a Film GCSE and we will make the final decision of which one to deliver in conjunction with the new staff member. Both courses are closely related.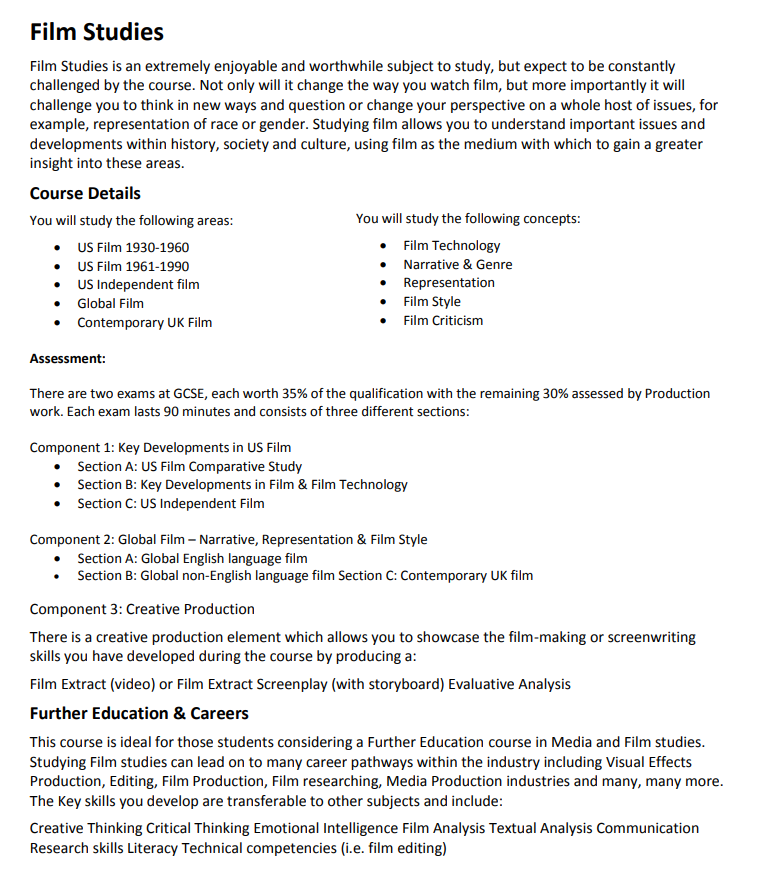 The Media Studies programme can be found here:
https://www.aqa.org.uk/subjects/media-studies/gcse/media-studies-8572/subject-content
For specific subject queries please contact Curriculum Leaders directly using their email address:
| | |
| --- | --- |
| Art | hfulford@beaulieuparkschool.com |
| Computer Science | nwebster@beaulieuparkschool.com |
| Drama | jrayner@beaulieuparkschool.com |
| Food Preparation & Nutrition | mdegge@beaulieuparkschool.com |
| Geography | edelgaty@beaulieuparkschool.com |
| German | sarmstrong@beaulieuparkschool.com |
| History | jfox@beaulieuparkschool.com |
| Maths | mtickner@beaulieuparkschool.com |
| Music | jtimms-bruno@beaulieuparkschool.com |
| Religous Education | eahmet@beaulieuparkschool.com |
| Physical Education | hnash@beaulieuparkschool.com |
| Science | srobinson@beaulieuparkschool.com |
| Spanish | sgarcia@beaulieuparkschool.com |
Please visit the downloads section on this page to review the parent guide for Options Online.