Policies
If you wish to request a paper copy of any of the documents on this page, please feel free to ask the staff in the office. These printouts will be provided free of charge. We ask for two working days to complete such requests.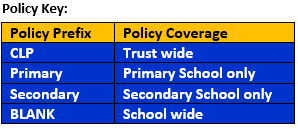 Addendum to Behaviour Policy - Covid 19
We recognise as a school that returning after such a long time at home presents a unique and challenging set of circumstances. We accept that students will take time to settle in and establish themselves in a routine and that it will feel strange for them to be back in school and in classrooms with their friends. Some students may feel anxious or nervous about their return to school and so extra pastoral care and support will be available on request.
There are some additions and amendments to our school rules for students to follow. These are set out (below) and have been made to ensure the safety of students and staff and should be taken very seriously.
Student Contact
There must be no physical contact between students such as hugging, bumping, hand shaking, fist bumping, elbow bumping or anything similar that includes physical contact.
In classrooms, students must follow instructions from staff at all times and this is especially important with regards seating instructions and entering and leaving classrooms.
Hygiene
There will be an expectation that students wash their hands/use hand sanitiser on a regular basis when in school. This includes when entering the building at the start of the day and also when coming back into the building following any breaks. Students must follow these procedures without exception.
Behaviour that wilfully and deliberately undermines the safety and hygiene measures that the school has put in place, or that risks the safety of students or staff, will not be tolerated. These incidents will be treated as serious breaches of the school's behaviour policy and sanctioned accordingly. Exclusion from school is one of the sanctions the school may use in response to a serious breach of the policy. Parents should also be aware that the school may involve the police in any incident where a student deliberately endangers the safety of anyone on the school site.
Examples might include:
Deliberately ignoring the social distancing measures put in place by the school

Deliberately coughing, sneezing or spitting at or towards another student/member of staff

Refusal to follow the school rules on hygiene and hand washing

Spitting in general, such as in the playground
Behaviour or language that is intended to cause alarm or distress to students/staff about the current situation (this also applies to the use of social media).
Equipment
It is crucial that students come to school fully equipped and ready to learn. As It is no longer practical to ask to borrow equipment from friends or members of staff if an item is forgotten.
If students have sanitiser they will be allowed to apply it at regular intervals although students will also have the facility to wash their hands with soap and water in the toilets.
Entering and Leaving the School Site
Students will be given instructions about which entrances that they may or may not use.