Welcome & Vision
Welcome to the website for The Beaulieu Park School. The Beaulieu Park School is Essex's first 'All Through' school. Our Primary phase opened for reception students in September 2018 and the Secondary phase opened in September 2019.
The new buildings and facilities cost £34m and the our school has been built to meet the growing demand for primary and secondary school places as a result of the new developments at Beaulieu, Channels and surrounding areas.
We hope you find this site useful and that it provides you with the information you are looking for. As well as our website, you can keep up to date with news and information about the school via our Facebook page The Beaulieu Park School and our Twitter feed @BeaulieuParkSch.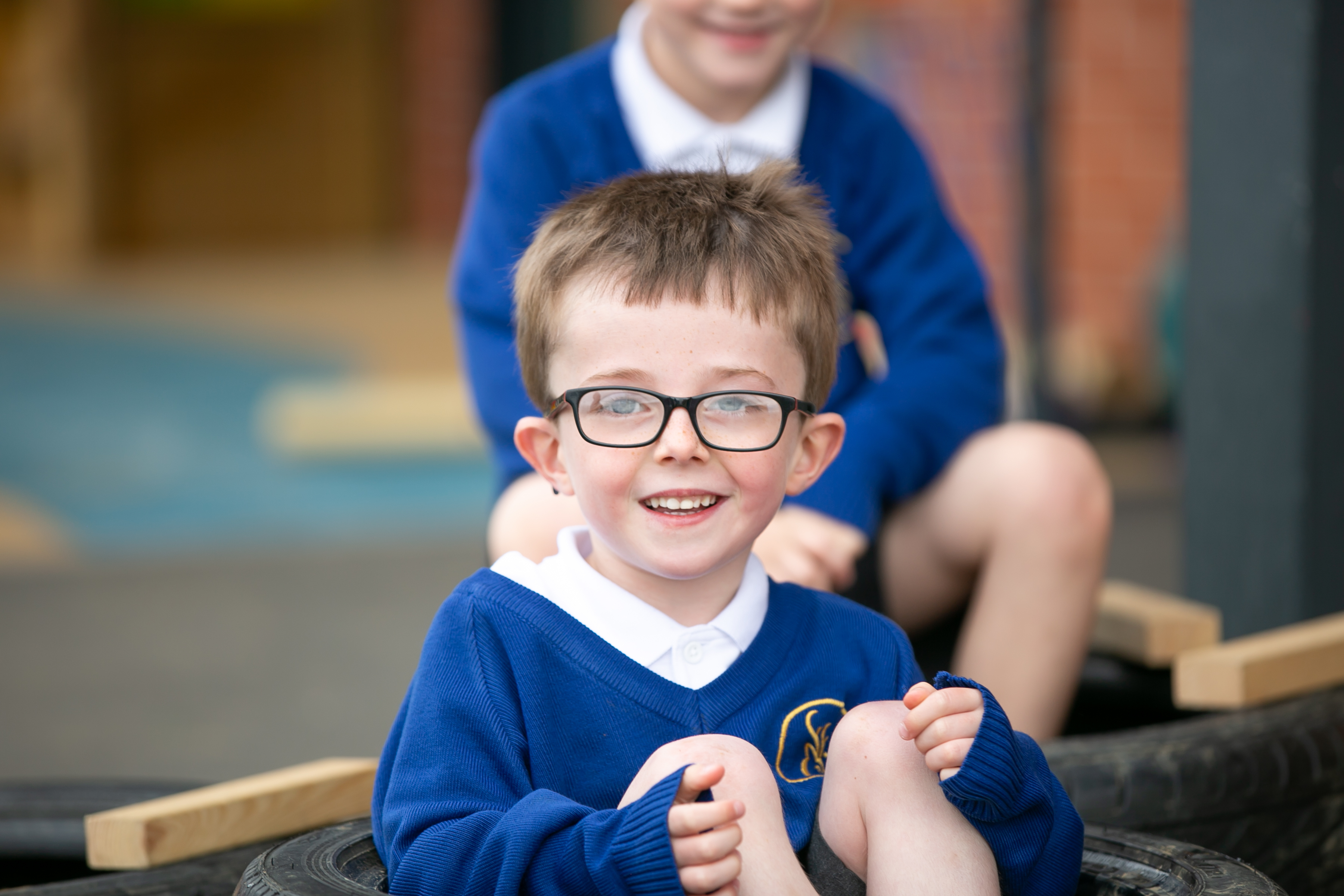 At Beaulieu, we believe that all children, regardless of their ability or background, should have access to an outstanding education. At The Beaulieu Park School traditional subjects are given additional lesson time in our longer school week (KS3) to give pupils a better grounding for further study.
We believe in inspiring curiosity in our students and fostering a lifelong love of learning. Our aim is to equip every student with the knowledge, drive and character necessary for success at university and beyond.*
We provide a strong curriculum in all phases of the school that focuses on knowledge and skills, a varied and inclusive co-curricular programme, outstanding teaching and learning and a focus on the individual child. Every member of our community, believes in the following and with no excuses:
High quality teaching and learning: That outstanding teaching and learning should take place in every lesson.
Exemplary Behaviour: The highest expectations of our students, rewarding hard work and effort. Our students taking pride in being part of our community.
High Achievement: That regardless of their ability, students should make excellent progress. Rigorous and detailed tracking systems allow us to ensure that all students can meet our high expectations.
Aspiration: That all students should be given the opportunity to follow a pathway that is relevant to their ambitious goals. We expect all our students to aspire for excellent academic achievement, regardless of ability.
Personalised Curriculum: Helping our students achieve their future ambitions through a curriculum pathway that facilitates their needs, abilities and high aspirations.
Developing Character: Ensuring our students develop into independent, confident citizens. We offer an extensive co-curricular programme to complement and enhance the learning that goes on in the classroom.
A Commitment: To support the achievements, well-being and development of all students and staff across every school in the Chelmsford Learning Partnership.
Our 'all through' school is distinctive from other schools. Students can make outstanding progress through curriculum continuity, not affected by phase breaks, which research has shown can lead students to fall back in their educational progress. Cross-phase teaching enables teachers to share expertise and resources and maximise the progress of every individual child. A common school ethos ensures that students understand the expectations of good behaviour and hard work which in turn motivates them to be highly ambitious from a very early age. Older students act as role models and support the achievement of those in earlier phases, both through academic and co-curricular links. Most importantly, we have an incredible sense of community that cannot be replicated in a stand-alone primary or secondary school, driven by strong leadership and encompassing parents/carers and the local community.
We are sure that you will be as excited as we are about the prospect of your child attending The Beaulieu Park School. A school that serves the community and provides an outstanding, special education for all.
Mr J Donaldson
Principal
*All further & higher education and apprenticeship routes are valid next steps for our students. Choices are important and must suit the individual. At Beaulieu however, it is imperative that all children, whatever their background believe that University or further education is a viable choice for them and that these pathways are not reserved for those from more affluent backgrounds. At Beaulieu, we believe that education is the key to a happy, healthy, socially mobile/adaptable and fulfilled life.
THE NEW SCHOOL
We are extremely proud and privileged to have such a rare opportunity to open and create a school from the start and to set the very highest expectations from the opening of the school.
The Beaulieu Park School opened in September 2018, welcoming our first cohort of 60 reception aged children in two classes. In September 2019, 180 Year 7 students joined us too. Year on year our school will grow, providing 420 places for local children between four and eleven years old by 2024 and 900 places for local children between 11 and 16 years old by 2023. Our 6th form will open for our eldest students for them to move into Year 12. At The Beaulieu Park School we are creating an all-through school where children can develop strong relationships with their teachers from age four up to when they leave school, preparing them well for going to university* when they complete their secondary education. We are all committed to giving our pupils the best possible start in life in an outstanding school that the communities of Beaulieu Park and Chelmsford can be proud of.
The Beaulieu Park School has the very highest aspirations for all of its students. The relentless fostering of the value of learning and scholarship is at the heart of everything we do. Our belief in our students and the belief they have in themselves is uncompromising. Whatever their background or ability level, all of our students believe that they can achieve anything.
WHAT DOES AN ALL THROUGH SCHOOL MEAN FOR MY CHILD?
In many ways, the Primary and Secondary Schools operate conventionally and be separate to each other. They occupy different buildings and playgrounds. Your son/daughter will not routinely mix with children in the secondary school if they are in the primary school and vice versa i.e. at lunchtime, in corridors etc. They will experience a traditional age appropriate education at each phase.
Uniquely however, The Beaulieu Park School's 'all-through' philosophy means that opportunities are open to your child that would not be possible in a conventional Primary or Secondary School. The School provides:
an environment where there are more teaching styles, and levels of experience than any other. Where subject specific practitioners from the secondary school can work with students in the primary school to stretch and challenge and primary specialists can work with those in the secondary school that need additional support
a chance for primary students to learn in specialist performing arts / sports / technology / science facilities not accessible to most primary school students
An complete and uninterrupted oversight of learning and progress from the age of 4-18, providing consistency and fluency
an ethos that will give each child, their family and teachers much higher expectations of what can be achieved
unparalleled pastoral care
high aspirations – from day one and without interruption
an ability to offer a broad and exciting curriculum from the beginning
leadership and mentoring opportunities that will develop confidence, resilience and character
LIFE IN THE PRIMARY SCHOOL
The Beaulieu Park School celebrates an important and wonderful stage in your child's development. From the very first day at school we make their time with us a happy, exciting and an inspiring journey towards secondary school.
When your child joins us, they will be taught in an environment that enables us to focus on their individual development. This approach will help them to achieve their full potential both inside and outside of the classroom. At The Beaulieu Park School, all of our children will have a strong sense of who they are and of the world around them.
By the time your child moves into the secondary phase, they will be fully equipped to tackle the next stage in their educational career and go on to achieve great things in their future.
At The Beaulieu Park School, your child will love to learn – a love of learning will be part of our culture and part of who we are as a school. We believe in learning through real life experiences and our curriculum will be full of exciting opportunities that will enable your child to achieve their full potential.
Your child will be happy, articulate and confident. Key to this will be the partnership we forge with incredibly supportive parents; dedicated staff; and the wider community.
EARLY YEARS FOUNDATION STAGE (EYFS)
Our provision at The Beaulieu Park School will provide a strong foundation for your child's future learning, including developing a positive attitude to learning. In giving your child a broad range of knowledge and skills we will be laying the foundation for excellent future progress throughout their school and life. To make this happen, learning and development opportunities will be planned around your child's specific needs and interests and regularly assessed and reviewed. Adults will respond to those needs and interests, guiding their development through warm, positive interactions in an encouraging, stimulating and a well-resourced indoor and outdoor environment.
In the Reception Year, it is the adult's role to extend and provide further challenge to your child's learning. Here we will seek to initiate and offer great depth to your child's experiences. Our staff will skilfully interact and sensitively scaffold, support and enhance your child's knowledge, skills and understanding. In addition, we will seek to help them to develop their thinking through their participation in activities and with the skilled involvement of our staff.
We will meet your child's needs by:
caring for the 'whole' i.e. your child's health, both physical and mental, their feelings and their thinking and emotional development
ensuring they have the opportunity to develop the skills, knowledge and understanding to achieve success and to build a thirst for lifelong learning
teaching the foundations of reading, writing and maths that will develop basic (essential) skills and to enable them to access the wider curriculum
providing a stimulating environment, indoors and out, with many opportunities to be curious, ask questions and to be eager to discover and learn
providing opportunities, time and space for them to pursue their own interests, and time to interact and share with others
providing opportunities for them to make choices and decisions to develop their independence
providing ethnically and culturally diverse experiences including resources and stories which reflect different cultures and values
creating a purposeful atmosphere, where teachers can focus on teaching and pupils on learning
working closely with you, the parents/carers and respecting the fact that you are experts in the knowledge of your own child
WHAT WILL MY CHILD LEARN?
The content of the curriculum is planned in the seven areas of learning and development.
THREE PRIME AREAS:
Communication and Language –developing skills and confidence in speaking and listening in a range of situations.
Physical Development – developing co-ordination, control, and movement through being active.
Personal, Social and Emotional Development – within clear boundaries and expectations, the forming of positive relationships, developing social skills and respect for others and understanding appropriate behaviour.
FOUR SPECIFIC AREAS
Literacy – developing skills by encouraging your child to link sounds and letters and to begin to read and write. Providing access to a wide range of reading materials (books, poems, and other written materials) to ignite their interest. Opportunities are provided daily for developing fine motor skills and handwriting is formally taught and practiced every day in reception.
Mathematics – involves providing your child with opportunities to develop and improve their skills in counting, understanding and using numbers, calculating simple addition and subtraction problems; and to describe shapes, spaces, and measures.
Understanding the World – finding out about people, places, technology and the environment.
Expressive Arts and Design – exploring a wide range of media and sharing their thoughts, ideas and feelings through a variety of activities in art, music, movement, dance, role-play, and design and technology.
HOW WILL MY CHILD LEARN?
Your child will learn through:
Playing and exploring
Learning actively
Creating and thinking critically
In the Foundation Stage teachers will make professional judgments about the balance between activities led or guided by adults and those led by the children. This balance will shift towards more activities led by adults as children move from early years and towards Year 1.
Adult directed activities are those which are directed by the adult and are useful in the teaching of specific skills such as demonstrating how to use tools or equipment. In our Reception class, daily teaching of literacy and maths starts from the outset and is a key part of our curriculum.
Adult guided activities are those which the adult initiates. These activities are often playful or experiential. They are open ended and motivate a keen interest in learning.
Child initiated experiences take place within an environment the adult has set up and planned but will be wholly decided upon by the child, based on the child's own motivation and remains under the child's control.
ENVIRONMENTS
All children have daily access to well-planned stimulating learning environments, indoors and outdoors. These environments will give them opportunities to be active and physical as well as quiet and reflective. Each classroom will have sufficient chairs and tables for children to be seated when appropriate, and also plenty of carpeted areas for children to engage in activities. There will be periods of time each day when all children in reception will be engaged in learning activities at their tables as class teaching is gradually introduced and developed throughout the Reception year. We are very fortunate at The Beaulieu Park School to have dedicated outdoor learning spaces and your child will benefit enormously from using them.
The early years environment - inside and outside is viewed as a whole, providing different areas where resources, materials and activities are freely and easily accessible.
The areas of learning in the environment include:
role play area
book/reading area
mark making/writing area
mathematical area
construction area
small world area
music area
creative area
malleable area
ICT opportunities
sand/water areas
It is important to develop learning opportunities outside as outdoor learning provides opportunities for: the acquisition of gross motor skills, taking risks, fostering a love of nature and the environment, large (and possibly messier) play which is not possible indoors, learning experiences suited to the outdoor environment and physical fitness.
WHAT YOU CAN EXPECT TO SEE DURING A WEEK IN FOUNDATION STAGE
Daily maths and literacy lessons in reception
Cooking
Nature Detectives (outdoor learning)
Circle time – SPED/CL
P.E. indoors/outdoors
Arts and crafts
Role play corner/activities
Sensory table
Carousel of activities in reception (to support focus work)
1-1 reading
Guided reading
Regular writing challenges
Exploration of technology
Regular maths and literacy opportunities
ADDITIONAL ACTIVITIES/EVENTS
Class trips
Special event assemblies
Visitors (specialist)
Exploring local area
Parents must be involved in the assessment process on a regular, ongoing basis and actively participate in their child's learning and development. At The Beaulieu Park School we set weekly homework so that parents can be involved in their child's learning.
Homework includes:
Homework activity books
Sound books (reception)
Reading books (reception)
THE SECONDARY SCHOOL
At The Beaulieu Park School our aim is to equip every student with the knowledge, drive and character necessary for success at university and beyond.* It is my passionate belief that all children, regardless of their ability or background, should have access to an outstanding education. At The Beaulieu Park School traditional subjects are given additional lesson time in our longer school day (KS3); giving pupils a better grounding for further study. With us, your child will learn more and for longer and at a fast pace.
Our curriculum is traditional. Students learn Mathematics and English every day. Science, Spanish and Humanities (History, Geography, R.E.) four times per week. P.E. twice per week. Life Skills & Citizenship, Drama, Music, Art once per week and Technology for an hour per week. Able language students learn an additional language in Year 9 – but that's just in the classroom….
Our co-curricular programme is rich and diverse. With a focus on Sport, Performing and Creative Arts, Public Speaking and debate, Music, additional learning and qualifications (and more), our main curriculum is complemented and enhanced, adding to the skills and cultural experiences of our students.
Our House system promotes a sense of identity, healthy competition and participation; providing a forum in which to celebrate success and effort. The House system is a cornerstone of our school culture, contributing to the aspirations we have for all our students. The Houses are named after the prestigious UK universities of Oxford, Cambridge, Kings and Imperial, representing a measure of the aspirations we have for our students - whatever choices our students make when they leave us, we aim for those choices to be aspirational, strong and confident.
Discipline is important at Beaulieu. At The Beaulieu Park School, we do not mind being known as 'strict'. We believe that in dealing promptly with the little things, larger things happen much less frequently. Our extremely high expectations of behaviour, inside and outside of the classroom, have created a prevailing culture of learning, positivity and kindness amongst our Beaulieu family. It is because we care so much for our students that we take the time to 'not ignore' the small things. Our students are clear about our expectations. This clarity allows them to feel safe, liberated and most importantly, happy.
I have taught for many years. The pressure amongst our young people to not to be seen to excel in front of their peers is tremendous and too often wins out. This is not acceptable; our ethos will demand that your child will always be the best that they can be and encourage others to do the same. At The Beaulieu Park School, we believe that every minute of the day is a learning opportunity. Our school is calm and peaceful. Transitions between lessons are fast. Students say please and thank you, demonstrate respect and have regular opportunities where it is an expectation to offer thanks to each other and to their teachers too. At the Beaulieu Park School, we all put the needs of others at the forefront of our decisions. Most importantly, we are a kind school, where we engender a sense of family. A school where both staff and students look out for each other and care for each other.
In lessons students follow the practise of S.L.A.N.T. – Sit up straight, Listen, Answer/Ask questions, Never interrupt, Track (keep eyes on) the teacher. This simple expectation enables learning to take place more effectively. Our structure will allow your child to be free, ambitious and confident. It will nurture them to develop into a kind, self-controlled, responsible, polite, motivated, and adaptable adult. Qualities that are absolutely crucial for lifelong happiness and success. We have very high classroom expectations because we care about the progress of every student. At Beaulieu, we expect each student (and teacher) to do their best, even when they find things hard. Nothing gives the staff at Beaulieu more pleasure than when a student makes a personal break through.
The Beaulieu Park School is a special place. It is the fundamental purpose of not only me, but of all my staff to deliver the very best education for your child and to help them become the very best version of themselves. I hope that you share the same ambition that I have for your child and every child that walks through the doors of this school. If you do, then please apply. I look forward to an exciting educational journey together and the rewards it will bring.
James Donaldson
Principal.
*All further & higher education and apprenticeship routes are valid next steps for our students. Choices are important and must suit the individual. At Beaulieu however, it is imperative that all children, whatever their background believe that University or further education is a viable choice for them and that these pathways are not reserved for those from more affluent backgrounds. At Beaulieu, we believe that education is the key to a happy, healthy, socially mobile/adaptable and fulfilled life.